4 x Chocolate in Groningen
Oct 9, 2023 | Written by: Overnachten in Stijl
4 X Chocolate in Groningen
One of our guilty pleasure is chocolate. Especially in this time of the year we love to cocoon on the sofa and watch some Netflix series. We need chocolate when we do that.
If you book your getaway with a group of friends in Groningen and are also a little bit chocolate addicted then continue reading this post.
We have some nice recommendations what to do.
1 Hotel Schimmelpenninck Huys
Have you always dreamed of making your own chocolates? Then the bonbon workshop at Het Bourgondisch Broodhuys & Chocolate Atelier is for you! It is not only a delicious treat for your taste buds, but also a great activity to enjoy with friends, family or colleagues. During the workshop you will be guided by Marianne, the chocolatier, who works with Belgian Callebaut chocolate. The chocolatier will teach you different techniques to create, fill and decorate your own chocolates, and discover endless flavor combinations to make your chocolates unique. And best of all? While you are being creative, you can enjoy the delicious chocolate! As icing on the cake, you can take your homemade chocolates home afterwards to enjoy them even more! Do you want to share this chocolate experience with a large group? You can book a private workshop for groups of 8 or more! We also advise to take a quick peek at their Instagram. One warning, you might need to book them asap.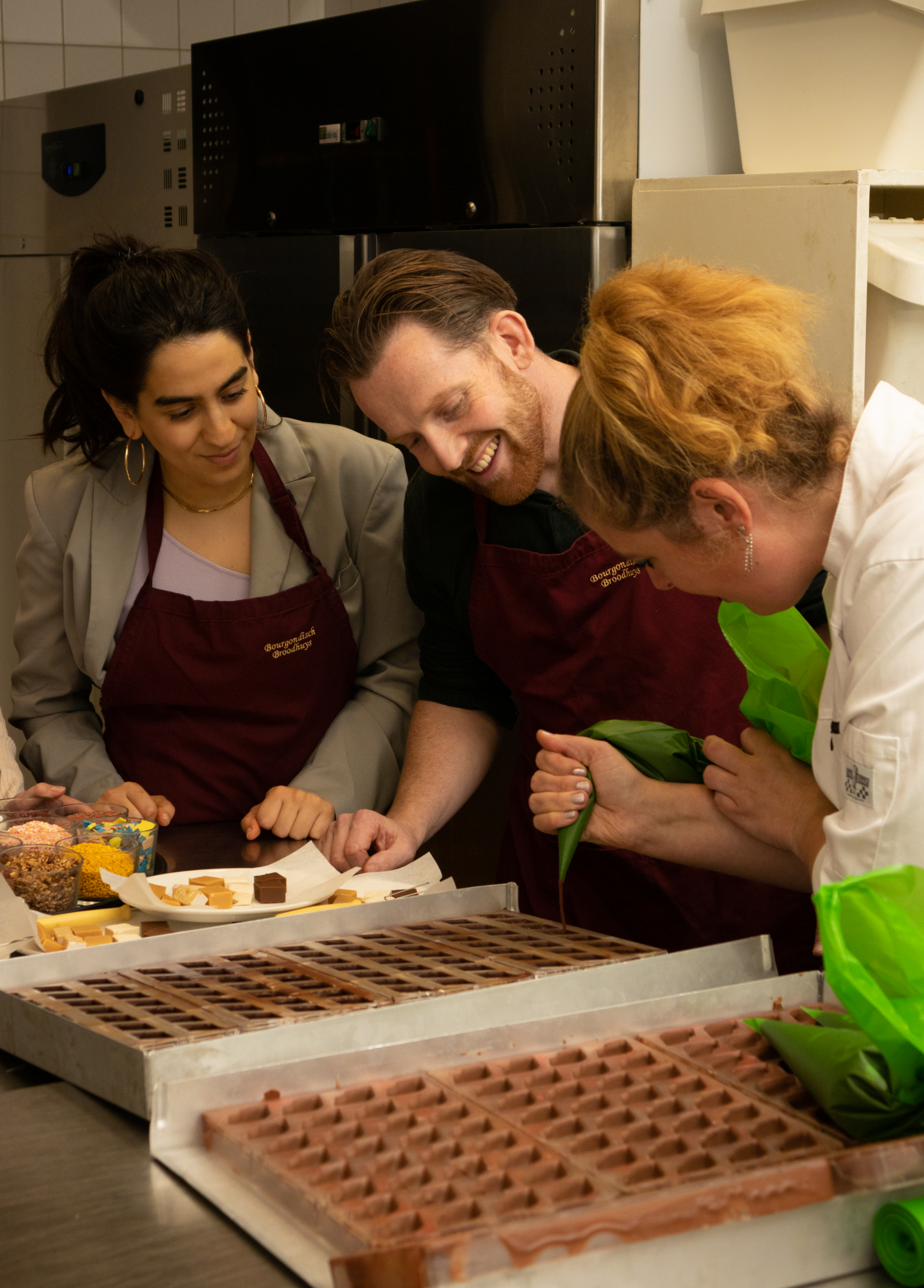 2 Heerlijk Chocolade
One of the best shops to visit offline and online is Heerlijk Chocolade. Their range consists of almost 50 different types of chocolates. So you have many options here: about sixty different chocolates are waiting for you in the display case. Almost all of them are fair trade and organic - the cocoa comes from Biolands in Tanzania - and available in the most diverse flavors: earl grey, apple syrup & calvados, wild strawberry & pepper, Limburg coffee. The chocolates are made in Limburg, by chocolatier Frank Visser. Besides chocolates, you can also get other chocolate: all kinds of peanut brittles, chocolate bars and gift boxes.
The most important characteristics of quality chocolates are their melting behavior in the mouth in combination with the different flavors. Their chocolates are "a party in the mouth". They are located at Folkingestraat 35 in Groningen. Do you prefer to order online, then you can check their webshop. You can also let us buy you a box of chocolates so you can surprise your partner when you arrive in one of our accommodations in Groningen.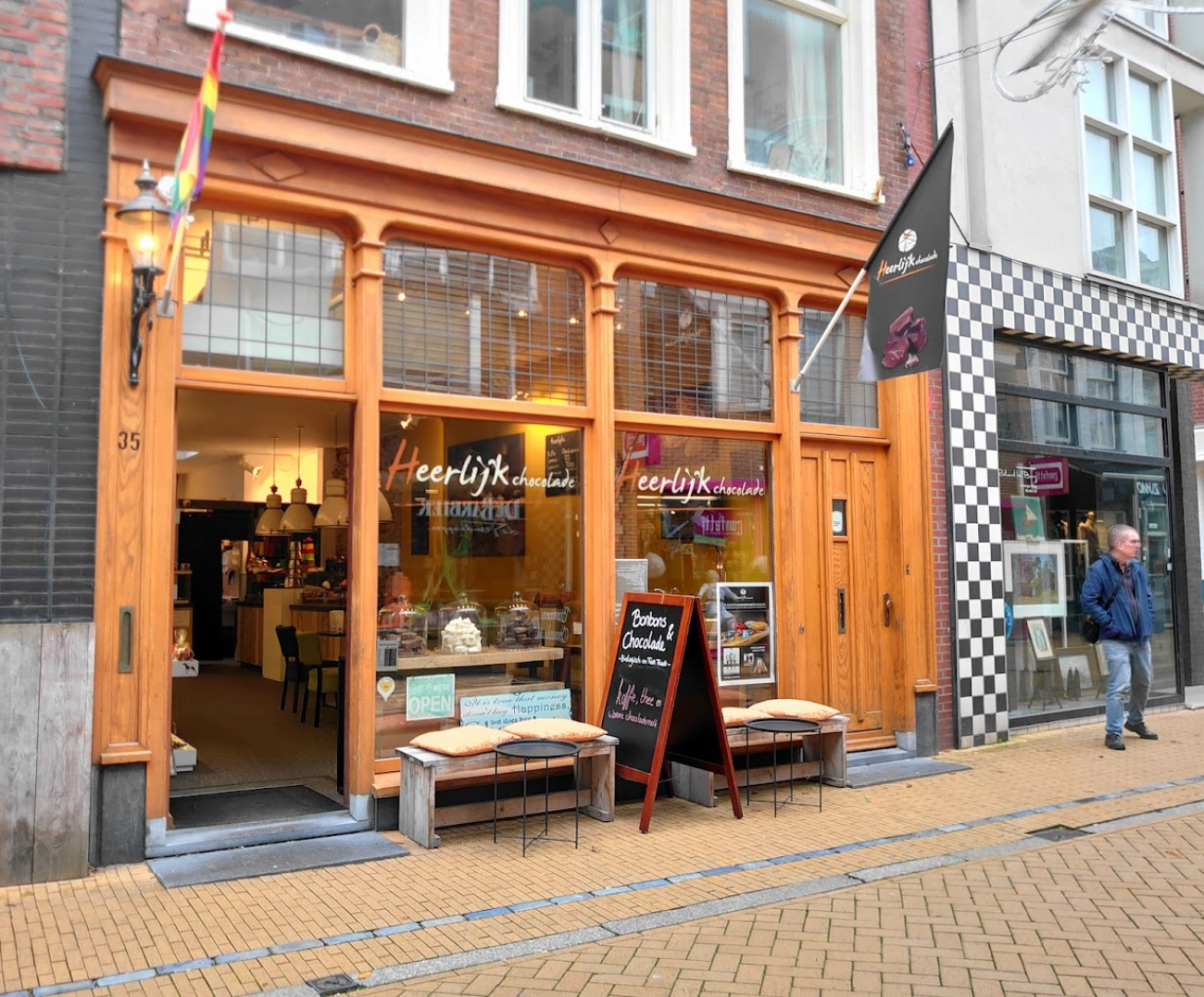 3 Simon Lévelt
Although this shop is more well known for its tea and coffee specials, we can also recommend to do a quick stop here. For the better chocolate bars! They have a large selection of fair trade and organic chocolate. Such as the bars from Seed & Bean in flavors such as Sicilian hazelnut & almond, lemon & poppyseed and sweet orange & thyme. Or slightly purer, the bars from Blanxart, which are available in cocoa percentages of up to 95 percent. Hoja Verde bars are produced from start to finish in Ecuador and the Dutch brand Mesjokke stands for honest bars that are made from one type of cocoa bean from one specific region.
If you are not in a hurry, you can also take a seat in – or outside on the terrace where you can order a great tea or coffee. This specialty store is a stone's throw from the Martini Tower and is definitely worth a visit during a day of shopping in Groningen. You will smell them, but to be absolute sure to not miss them, they are located at on of our favourite shopping streets at Zwanestraat 38!
4 Smaakaron
If you're in search of the perfect gift for chocolate and macaron enthusiasts, look no further than this exquisite establishment. And if you happen to be a vegan, rest assured, they offer a wide array of delectable options just for you. Smaakaron is dedicated to delivering exceptional quality in chocolate and macarons that are not only visually appealing but also a sensory delight. Their expertise in crafting top-tier vegan macarons dates back to 2019, and they continually elevate plant-based cuisine with their creative flair and unwavering passion. Every encounter with their products is an unforgettable experience. Smaakaron offers an elegantly beautiful journey into the world of bonbons, both traditional and vegan. Prepare your taste buds for a luxurious adventure with their vibrant Belgian chocolate bonbons—a true manifestation of the culinary artistry shared by Head Chef and chocolatier extraordinaire, Jelte Blaauw, one of the finest chocolatiers in The Netherlands.