World Animal Day and pet-friendly accommodations in Groningen
Oct 4, 2023 | Written by: Diet Daleman
World Animal Day and how to find the best pet-friendly accommodations in Groningen
On the 4th of October! There is no better day than today to share this post. It is World Animal Day today. In 1929, animal rights activists thought it was time for a day to reflect on animal welfare. Then they declared October 4, the anniversary of Francis of Assisi's death, as Animal Day. In 1930, it was officially Animal Day for the first time on October 4.
And what do you do on this day to give your pet an extra treat?
This blog is about taking your dog to the city of Groningen and where you are welcomed warmly.
The challenge of taking your dog to a city and find accommodation that is welcoming to your pet.
Those who have pets and want to take their pet on their weekend trip to Groningen can face a challenge. Not all hotels and accommodations allow pets. And if they do allow pets, you will have to find restaurants, pubs and shops where you can enter with your dog. You will also have to find nice places to walk in nature with your dog, close to the city of Groningen. For a real doglover counts that when your dog is happy, you are happy.
Do you have friends who always take their pets with them wherever they go? To restaurants, to the city or to hotels or holidayhomes? To parties, to their social life, because they are their family. A big cheers to that!
Tag them and we they will get some free advise and suggestions what is best to do in Groningen when you want to take your pet. Take your furry friend with you to this city and you won't regret it when you first read our blog.
Accommodations suggestions in Groningen
The first and very luxurious one is Hotel Prinsenhof. Did you expect that you can take your dog to this chique hotel? Yes, you can! Ofcourse they need to be well – behaved and educated. And what to expect when you take them? We have asked them.
"Hospitality is one of the most important aims at Prinsenhof. Whether or not to allow dogs (and other pets) requires a nuanced policy. After all, for one guest a pet brought along is part of the family, but some other guests may experience nuisance due to the presence of the same pet. Our policy on bringing dogs is "In principle yes, if…". In short, we want to be able to control the atmosphere in the hotel as best as possible at all times. For every guest. We charge a fee for extra cleaning costs for a pet to stay in the hotel rooms. Dogs are also welcome in our Restaurant the Brasserie, they get a quiet table and they even serve dog champagne. Since guests always travel well prepared with their dogs, we provide a fresh water bowl as a gesture to visiting dogs (and occasionally a treat from the dog cookie jar)."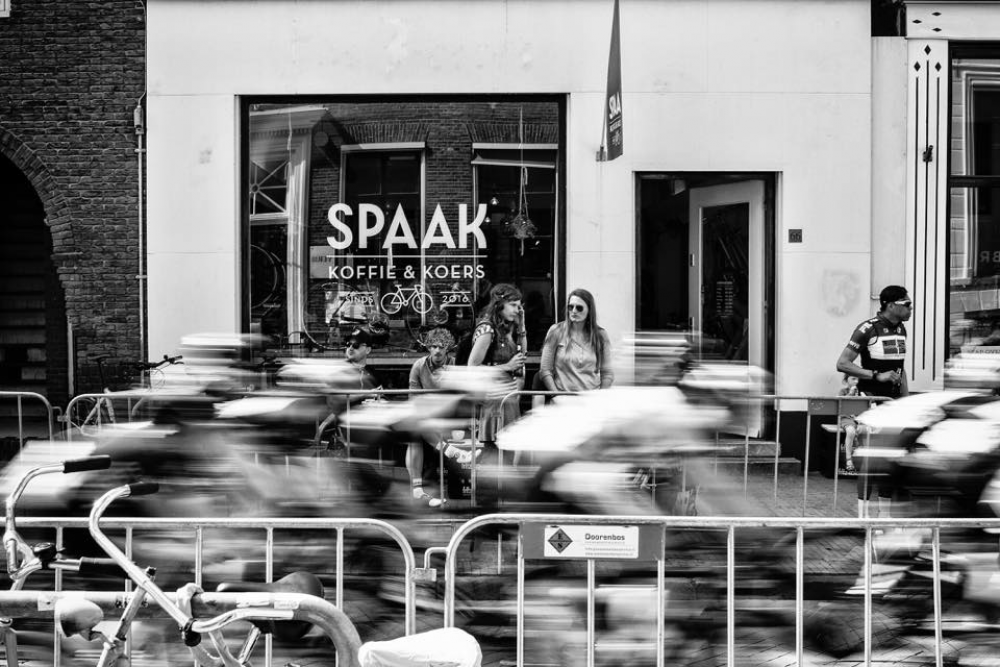 Just outside the hotel, located at the Martini Kerkhof it is not allowed to walk your dog, so we advise to make your way towards the canals of Groningen and walk north.
On your way north you may pass Spaak Groningen, this lunch café en spot for good coffee allows dogs to enter. And it is especially an unique spot if you are a cyclist at heart! So check their website, because they do more around than offer food and drinks!
Because if you are searching for a good spot to stroll around with your dog and even let the dog run, we advise to walk to the Noorderplantsoen Park. In every season it is wonderful to walk there and there are many paths where you can unleash your dog to run around and play. You will notice it is a social event to be walking in the park. Many students consider it as their garden. It has basketball fields, bbq areas, a pawn with spots to relax around, some take away coffee points like Paviljoen Zondag. You won't find any cars in the park, but be aware of the fast cyclists and scooters.
If you have booked a hotel or a holidayhome and you want to go a bit further to walk your dog. Then you can rent a bakfiets at Fietsverhuur Groningen. You can easily visit Stadspark Groningen. It will be a 10 minute cycle.
Another dogfriendly accommodation in Groningen is Camping Stadspark. During festivals and big concerts, this camping needs to be booked some months ahead. You can go there with your campervan, caravan, tent and they rent out little basic chalets. The big advantage of staying here with your dog, is that you can go for a big unleashed hike in Stadspark of Groningen. Below our suggestions where to take your dog for a nice walk.
Rather stay at a petfriendly holidayhome? There are also families with dogs or dogowners that prefer a home above a hotel. Then if you stay in the city center of Groningen, you will not have many options left. But there is one on our platform that is extremely dogfriendly. It has no stairs, a little terrace at the back. It is the apartment Suite 30.
Where to walk your dog in Groningen?
Suite 30 is just around the corner of Noorderplantsoen with many unleashed walking zones. You can stroll around or buy some groceries and do a picknick.
As a four legged furry guest at Suite 30 you can expect some treats on arrival, so it will be a warm welcome for sure. You won't have to walk any stairs, so it is the best place for you! For your humans there will be free coffee, tea and also practical, a free parking! Easy when you want to bring so much toys for your dog, petfood and maybe more stuff to make it a holiday for your furry friend as well.
Suite 30 is just a big 5 minutes walk and 10 minutes through the park to the city center. The best petshop you will pass by is Bo & Co. Just pull on the leash if you smell the place! A minute further your human friend can buy their own treats at Droppie.
At Stadspark you will find a very big park with large trees for shade and now autumn has started many yellow, red and orange colored leaves. The Stadspark is a place where the only traffic you will find are cyclists and walkers or runners. So no worries about cars here. It is easy to do some hours of walking here and combine it with a picnic if you take your own groceries beforehand. For the active dog, there is a playground where you can do some agility exercises with your furry friend.
We have another nice suggestion to do a walk around a small lake, but we finish our blog with that one, because we have a nice dinner suggestion with it. So read on!
Pub suggestions
At the other side of Suite 30, you will find a lovely pub where you can take your pet as well! The very nice owners Karel and Carolien have opened their classical pub De Moesker a big year ago after a huge renovation. It became a cosy spot where neighbors, small groups and couples find their steady place for a nice drink, chat or playing some board games. But most important, you can take your dog!
Restaurants that allows pets to come inside in and around Groningen
With this petfriendly restaurant we have a special connection. We share our office/home with the chef Irina. So sometimes we are working and smell their cooking skills here! Okay. Nearby the Noorderplantsoen you can have a great Ukrainian meal at Ukrain Food and the cool thing is that they allow both cats and dogs! Wow, they even have regular cats coming to the restaurant so this is the upmost petfriendly place to be! And together with enjoying a nice meal you also support the Ukranian community in Groningen. Check here what they already did to help the country.
If you combine your trip to Groningen with work or you are on a workation here? Visit Fernweh Groningen and take your pet without a problem. Their workplaces are designed for different use and purposes, with 2 private soundproof meeting rooms and 20 individual work – or study places designed for studying and working on your own private calls, online meetings, face to face meetings and private meetings.
Take your dog inside without any worries to Double- A for lunch, dinner or if you are with a group you can reserve specials like a high wine or a high tea. This restaurant has an informal vibe and it is nice and spacy!
A little outside of the center we can give more suggestions to go out for dinner and bring your dog.
Beachclub Kaaphoorn allows dogs and it is a nice casual place to enjoy some streetfoods. Before or after you can do a nice hike around the Hoornseplas as there are free walking zones with your dog (from 1 oct- 1 april).
Holliday with your dog at the Paterswoldse meer in Haren, Paterswolde.
If you would like to book a holidayhome nearby this place we have two suggestions. The first one is the Lakehouse and it is suitable until 6 persons and you can take your dog, they will enjoy it very much! It is a cosy reed roof house and has an enclosed garden. The lakehouse is still available for autumn holiday! So don't wait too long and book or contact us on info@overnachteninstijl.nl
We hope we have given you enough inspiration to visit Groningen with your pet!